May 4, 2019
Good Afternoon,
We've had a great week of learning here at Lynn Fripps with some fun built in.  The weather has been cooperating for us, and we have really been getting outside, not only for exercise but for learning.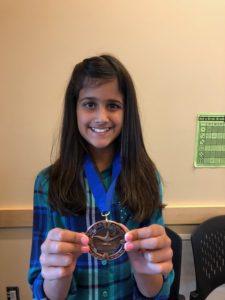 SPEECH FEST FINAL
What an amazing end to some hard work and effort. Asha did a wonderful job Friday of her speech at the School Board Office for our district judges.  Up against some tough competition, Asha placed 3rd overall for the Grade 4/5 Category.  Asha's speech, CHOOSE KIND, was a great message for us all, and embodies the work we do throughout our school around the virtues.
Congratulations, Asha!  Thank you for representing Lynn Fripps so well.
Mrs. Torgerson's class read about TEK- a cave boy who was addicted to his technology. One day, his battery charge ran out on the iPad and he began to notice how warm the sun was, how tickly the grass on his feet, how blue the sky….
Students shared & journaled about all of the benefits technology brings into our lives….. and then chose one piece of tech we each own that we felt we could challenge ourselves to do without just for a day…The kids sure had fun "ex-ing" it off on the front board!
Our Grade 4 and 5 students recently watched Screenagers, a documentary that looks at how we help our students and families navigate the digital world.  While devices have been common place in our homes and schools, the video encouraged students to have conversations about when and how they use technology.
On Friday, our staff spent the day working on our action plan for learning, and digging into Mental Health Literacy.  Working as a team, our staff spent the morning working with  the Language Arts curriculum and how to plan for student success.  As we work to build reading achievement in our students, we must also consider writing, thinking, listening and oral language as components fo our comprehensive literacy development.
Our afternoon was spent with counsellors Shelley Fritz and Mary Krische as we engaged to understand the basics of mental health literacy, develop a consistent language around mental health, and to understand our role in supporting individuals who may have a mental illness or disorder.
PLANTING SUNFLOWERS
Ms. Prasad's class explored the science of plants this week as they planted sunflowers and examined plant characteristics.
I was so excited to see this display at the School Board Office this week.  Mrs. Townsend's students created these Indigenous tools during a workshop with Aboriginal Presenter Karen Gabriel.  We're so excited to showcase some of our student learning in a more public venue such as the School Board Office.
CONNECTING OUR GARDEN TO LITERACY
Our gardens are definitely growing, and this week Ms. Harssema had some students create markers to identify all of the wonderful things growing at Lynn Fripps.
Wednesday, May 8th students will be participating in the SD35 Idea Summit – sharing ideas and innovation.  Some students will be pitching their products and ideas in a Pitch Challenge, and this week Lynn Fripps hosted a Pitch Challenge training and practice session, supported by Bill Roche (Power Play Young Entrepreneurs), Sandra Averill (District ADST teacher), and our very own Mrs. Fernandes.  Students learned helpful tips and tricks, and practiced for one another to develop their skills.
Mrs. Swayne and Mrs. Gillion brought their students together this week to spread some kindness and positivity to our community.  The buddy classes created messages with sidewalk chalk of hope and affirmation, while spending time connecting.
MAY THE FOURTH (OR SECOND) BE WITH YOU!
Our students enjoyed the day sharing their love of the Star Wars world. Our morning parade allowed students to shared their spirit together.
Mrs. Sukert's students used the Force with a little outdoor fun!  The giggles were great and the activity high as students had their own little lightsaber challenge.
LITERACY AT HOME
Read-alouds are one of my favourite ways to share great literature with kids.  Kids of all ages (yes even our Grade 4s and 5s) love a good read aloud, and even let themselves enjoy picture books 😉 . Read-alouds allow students to hear fluent expressive language, and a story that flows.  They also allow you to ask questions, and dig deeper about student understanding.  They allow for connection and some time away from screens, and actually help students brains settle for deep sleep.
Common Sense Media (which we also use to rate our movies and digital materials), offers a great selection of read-alouds at a variety of levels.
You can visit their website at: https://www.commonsensemedia.org/lists/read-aloud-books
DATES TO REMEMBER
May 8th – Idea Summit at LEC
May 9th – Welcome to Kindergarten 9:00am and 1:00pm
May 9th – Kindergarten Students dismissed at 11:35am
May 9th – Regional Heritage Fair
May 9th – Collaboration Afternoon Dismissal at 1:20pm
May 22nd – Talent Show
May 22nd – White Hatter Internet Presentation for Parents 7pm
May 23rd – White Hatter Internet Presentation for Grades 4 and 5
May 27th – PAC AGM and Parent Appreciation Evening
May 27-31 – Operation Waterproof (Grade 5 Swim Program)
May 31st – Spring Carnival
Have a wonderful weekend!
Kim Anderson