September 13, 2019
Our community continues to grow, and we are grateful for every member.  Throughout the year we will look for opportunities to build stronger connections with all of our new families and staff.  We know Lynn Fripps is a great place to be, and work hard to build our community feel.  Please pop in to say hello or join one of our many great school activities and become one of our family!!
In our classrooms, teachers, support staff and students are also building relationships and developing new connections.
VIRTUES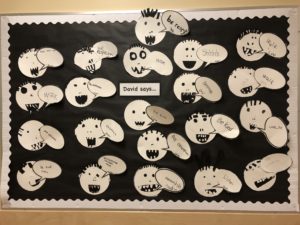 Our Virtues Project continues to grow in the school, and students continue to develop these characteristics. Even in our younger students, we are seeing the virtues of kindness, empathy and responsibility.
This month we are focusing on the virtue of Courage – the choice and willingness to confront those things that make us worried, fearful, and uncertain.  Many of our students have been showing great courage this first two weeks – in new classes, with new friends, and for some even in a new school.  Mrs. Gillion's class used story books to learn about the importance of using kind words and how words can leave wrinkles on our hearts, even when we say we're sorry.  Such an important lesson for all of our learners as they navigate friendships and interactions with others.
ACTION PLAN FOR LEARNING
Student learning is at the forefront of everything we do.  Through a lens of Curiosity, Joy and Connection, we aim to provide the best possible chances for success – academically, socially and emotionally for all students.  Our Action Plan for Learning is our map to providing these opportunities.  Last year our team focused on self-regulation and literacy and will continue to do so this year.  While we are working towards the following goal —
How can we continue to work collaboratively to develop capacity in our students for self-regulation and social emotional learning while targeting improved literacy achievement?
— we will continue to develop students numeracy skills and competencies in the areas of Critical and Creative Thinking, Problem Solving and Personal and Social Awareness.   Our goal is to help our students build capacity for being positive, contributing members of or community both locally and globally.
LEADERSHIP IN ACTION
Ms. Sandhu's class worked this week to build their vision for classroom culture and community,  Our leaders were able to identify leadership qualities and those things they wish to see from each other.
LITERACY IN ACTION
The students have settled in, and everywhere you look they are engaged in literacy activities.  Writing is a large part of our literacy development and can happen in many ways.  From stories to journal entries, from speech bubbles to poems, writing takes on many forms.  Throughout the year students will engage in writing in a variety of mediums some of which may include paper, word documents, book creator and posters.  Students may use pens and pencils, stylus', word processing programs or even speech to text platforms.  All writing helps to develop language and vocabulary and helps improve literacy for students.  Take a look at what some of our students were up to this week.
NUMBER SENSE
Students engage in a variety of math activities, and many look different from what you and I grew up with!  Students often use hands on activities and collaborative work to build understanding. Our Math curriculum focuses on processes and skills and develops critical and creative thinking in our students.  This week Mrs. Ponting's class was working on subitizing, the ability to tell the number of objects in a set, quickly and without counting. Being able to recognize patterns in numbers is foundational in developing strong number sense.
Mrs. Swayne's students were working on place value and number sense, creating rules for one another and creating numbers based on the rules.  The discussions and thinking that were happening between students helped to develop a deeper understanding and helped students clarify their thinking.
EXPECTATIONS VIDEO
We shared this great video last week, but felt it was worth a re-share. One of our goals is to work towards developing a socially responsible learning community and following expectations helps this to happen as we;; as keep students safe!
THE SCHOLASTIC BOOK FAIR IS COMING!
TEAM BUILDING
Mr Myers' classes worked together this week in a team building challenge – students had to work collaboratively to stack the cups on top of one another using only an elastic band and string.    Our Grade 5 students are this year's leaders and we are super excited to work with this group of collaborative, positive and energetic students.
WELCOME KINDIES!
This week our kindergarten students completed their gradual entry into school! Students spent time with all of our kindergarten team, our Library Learning Commons team and our Music Specialist.  Getting to know one another and some routines of kindergarten has set them up for a great year. We are excited for their first full day in their classes on Monday Morning.
THE AMAZING LYNN FRIPPS PAC
We are so fortunate to have an amazing parent community that supports our school. Our PAC does a whole host of great things in our building including (but not limited to) organizing Hot Lunch, fundraising for playground equipment and classroom initiatives, supporting our library and music programs and providing a compassion fund that ensures all students have what they need to succeed at school.
A big shout out to our PAC for providing snacks and beverages to our staff for the first week of start up!
Check out the PAC website at the link below.  We hope to see you at our first PAC meeting of the year on Monday night!
CALENDAR-1906 201909-September
HOT LUNCH ordering is now open!  The link can be found in the PAC website above.  Some students order frequently, other occasionally, and some not at all.  Hot lunch ordering is a family choice and we encourage you to make decisions that best suit your family.  If you have any questions at all, please do not hesitate to contact PAC President Jenn Pyper at president@lynnfrippspac.com
GROWTH MINDSET
Ms. McMitchell's class read The Dot by Peter Reynolds and talked about the difference between fixed (saying you can't do something) and growth (working to improve with effort) mindsets.   Students completed two builds and took time between for reflection in order to improve their structure, improve their ability and grow.
The students were able to see that many times things don't work the first time but that success is achievable with persistence.
CURIOSITY, JOY AND CONNECTION
We continue to look at our learning opportunities through the lens of Curiosity, Joy and Connection and have seen much of that this week!
BUDDY READING
We are very proud of the connection our students make with one another to support enthusiasm and achievement.  Mrs. Salli's students enjoyed reading with buddies in the classroom this week sharing a love of great books and making connections.
VERIFICATION FORMS AND DIGITAL CONSENT
You should have received home 1. a YELLOW two-sided student verification form  and 2. a GREEN media/photo/internet consent package.
Each year we work to ensure accurate information for all students.  This includes contact phone numbers, emergency contacts and those students who may pick up your child.  We are unable to release students to anyone NOT on the verification form.  Once you have checked the information. Please remember to sign the form and return it to the school on Monday.
We are moving into a new era of parent communication and use of technology at schools. As we move beyond the newsletter, we use social media sites to share the story of life at Lynn Fripps through small bits of information (images, videos, text) more often. We respect your family's privacy so in order for us to share images of students online, we would like you to read this form carefully and state your preference for consent.
Students will also have the opportunity in some classes to use various forms of technology and online tools to enhance their learning experience. Some students will be creating online blogs and portfolios of their learning so it can be easily shared with a more authentic audience like parents and family members. Teacher and principal will closely monitor internet tools.  This is an exciting opportunity for students at Lynn Fripps but we need your consent to proceed.  Please read the information sheets and indicate your preferences for your child.  The green form is to be signed and returned as soon as possible.  The information sheets may be kept at home for your information.
DATES TO REMEMBER
September 16th – PAC Meeting 7:00pm ALL WELCOME!
September 18th – PAC BBQ and Meet the Teacher Evening (5-6 BBQ, 6-7 Meet the Teacher)
September 20th  – School Improvement Day – Students not in session
September 23rd – Terry Fox Run 1:30pm
September 30th – Orange Shirt Day Assembly 9:00 a.m.
October 10th – Virtues Assembly "Thankfulness" 11:15 am
October 14th – Thanksgiving (School Not in Session)
October 29 & 30th – Parent Teacher Interviews
Have a Wonderful Weekend
Kim Anderson