2021-2022 LEARNING THROUGH CURIOSITY, JOY AND CONNECTION
This year has definitely had a much different start, and we are finding new ways to do most everything.  What has not changed is our commitment to our students and learning.  We continue to strive for the success of all learners. Take a look at the executive summary of this year's plan (you can click on the image to make it larger).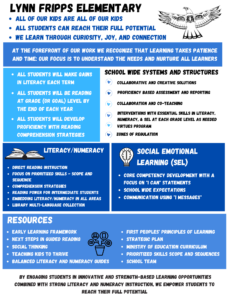 Should you wish a more detailed look, please take a look at the full plan here:
https://sway.office.com/xooGFfATchJIypDk?ref=Link
Please read the weekly Principal's Message found here: https://lynnfripps.sd35.bc.ca/principal-blog/to see the work we are doing to make our school goal–
"How can we continue to work collaboratively to develop capacity in our students for social emotional learning while improving student achievement?"
–a reality.  Ensuring student learning is the foundation of Fripps!
Thoughts and Rationale
At Lynn Fripps, our goal is to create a safe positive learning environment for all learners to reach their full potential and create a positive legacy for the future.  This vision coincides with that of the school district, working together to support students from diverse backgrounds and communities so that they can develop their positive personal and cultural identity competencies.
Connecting our goals with the District's Core Values of Integrity, Excellence, Courage and Community, we intend to build in our students the ability to self-regulate and work collaboratively which research suggests will lead to increased student engagement and academic achievement.
This will also lead students to better be able to identify their strengths and abilities.  This skill will allow students to contribute to the learning of others in the Lynn Fripps community.  These actions will lead to the development of communication and social responsibility. 
Teachers continue to work to improve student capacity in reading, through both whole group, small group, and intensive reading supports. Primary staff have been working with District Staff through Balanced Literacy professional development to better meet the needs of individual learners.  This year any of our intermediate staff have also undertaken this professional development.  It is our belief that these focused interventions will be better received with increased self-regulation by students.  These actions will also help to develop creative and critical thinking leading to, we believe, improved achievement.
Staff will continue to provide opportunities that explore student strengths and interests. The results will be increased engagement, resilience, confidence and joy.  As well, by providing ways for students to share their skills and stories with others, a skill both modelled and built upon by our Aboriginal teachings, we will work to increase collaboration and sense of community.
Staff, parents and, students continue work collaboratively to develop school-wide expectations for responsible behaviours that demonstrate caring for our school and each other.  Continued emphasis to implement "Fripps Falcons" leadership, Virtues Project, Zones of Regulation and Social Thinking are supported in the classroom and through support programs.